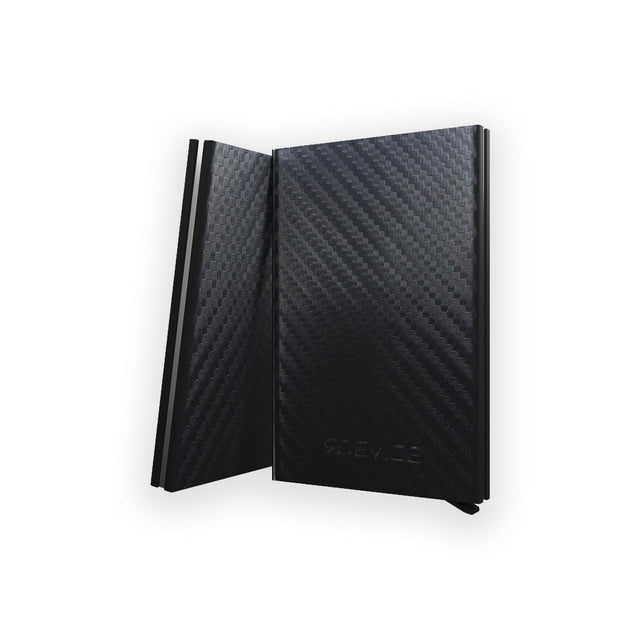 STOCK CLEARANCE! Limited stock.
● Always 30 days open purchase.
● Safe and secure payments with Klarna and Paypal.
● Fast and flexible deliveries and returns.
A carbon fiber designed card holder is an excellent choice for anyone who values style and functionality. Our card holder is made of a strong and lightweight material that gives an elegant and sophisticated look, making it a popular choice for high-end consumer goods.

In addition to its stylish appearance and durability, our card holder is also practical. Its compact design makes it easy to carry in your pocket or bag, and its up to seven card slots allow you to keep your most important cards organized and easily accessible.

So if you're looking for a card holder that combines style, functionality and durability, our card holder is an excellent choice. Whether you're looking for a stylish and stylish accessory for your daily commute, or a practical solution for organizing your cards, our card holder is a smart investment that you'll enjoy using for years to come.
DETAILS
✔ Holds up to six cards
✔ Secure with RFID protection
✔ Carbon fiber design
EASY ACCESS TO YOUR CARDS
Our innovative card ejection mechanism allows you to easily access your cards with just one click, eliminating the frustration of searching through your wallet.
FITS PERFECTLY WITH OUR CARBON FIBER CASES
"
Matching the card holder to the phone case enhances the aesthetics of both devices and creates a cohesive look.
It also makes it easier to keep track of both your card holders and the phone, as they will stand out as one matching set.
Having a matching set can also be a personal touch that adds to the overall experience of using your devices. Matching sets can also give the impression of a well-coordinated and organized user, showing attention to detail and a sense of style.
Whether you want to make a statement or just want to keep your devices coordinated, a matching card holder is and phone is the way to go.
"
RFID PROTECTION
RFID protection is important because it helps prevent unauthorized access to sensitive information stored on your credit and debit cards.
Our card holders have RFID protection, which reduces the risk of having your information stolen and protects you against the consequences of identity theft.
ULTRA-THIN
An ultra-thin card holder is an excellent option for those who value compactness and minimalism. Its slim design makes it easy to carry in your pocket, bag, or purse, without adding bulk or taking up too much space. This makes it an ideal choice for everyday use, as well as for travel or other situations where you need to minimize the amount of space your essentials take up.

Another advantage of an ultra-thin card holder is that it is less likely to wear out or be damaged over time. Unlike bulky card holders, an ultra-thin design doesn't put too much strain on your pockets or bags, making it less prone to wear and tear.
Bästa plånbok🤩
Jag är jätteglad att jag har köpt den här produkten!!!
Carbon Fiber Card Holder
Grymt smidigt! Har fyra kort i utan problem. Plånboken ligger nu i lådan :)
Card Holder
Super bra riktigt nöjd med både leveranstid kvalite och utseende . Riktigt riktigt bra och får vad man. Betalar för
Väldigt snabbt levererat!
Du kommer inte bli besviken
Jag är verkligen glad att jag valde den här korthållaren, det är supersmidigt att plocka fram kortet man vill ha.
Frequently asked questions about this product
How many cards does the card holder hold?
The card holder holds up to seven cards.
Is the card holder skim-proof?
Yes, the card holder is equipped with an RFID protection that keeps you safe from identity theft and other thefts.
Is it MagSafe compatible?
No, this is not a card holder that you attach to your phone.